On the morning of December 02nd 2017, the ground breaking ceremony of Ishikawa Seiko Vietnam project was solemnly held at Hiep Phuoc Industrial Park.
Ishikawa Seiko Vietnam invested for Ishisei Vietnam project on the area of 3,240m2 at Lot EB3 Street 19A, Hiep Phuoc IP (Phase 2), Hiep Phuoc Ward, Nha Be District, Ho Chi Minh City.
As 100% Japan capitalized firm, Ishisei Viet Nam began its business operation in 2011 with production base located in Ho Chi Minh. Since then, the company has played an active role as expert manufacturer and processor of high precision machinery components and parts for a wide array of industrial machines for example : machining centers, CNC lathes, CNC wirecuts, surface – external – internal grinders and modern inspection equipments. Innovative technology transferred from Japan and modern production line used in manufacturing process have made it possible for Ishikawa Seiko Vietnam to create high-performance products, contributing to bringing effective solutions for industries. Due to meeting with high standards, the company exports its products to overseas markets and supplies them to Japanese companies in Vietnam.
Participants in this solemn ceremony included:
- Representatives of the Owner Ishikawa Seiko Vietnam: The Chairman Mr. Ishikawa Toru, the chairman's wife Mrs. Ishikawa Misuzu, Director Mr. Nguyen Huy Trung & Deputy of Director Mr. Vo Van Sang.
- Representatives of Project management consultancy company - Pure Vietnam Co., Ltd: the Director Mr. Nguyen Tin Lang, Project Manager Mr Nguyen Duc Hien & Project manager Mr. Nguyen Tran Thai Hoa.
- Representatives of the Main Contractor - Nha Viet Construction Co.Ltd: the Director Mr. Truong Ba Ngoc & Project Manager Mr. Trinh Ba Thuyen.
- Representatives of Hiep Phuoc IP JCS: Deputy of General Director Mr. Giang Ngoc Phuong.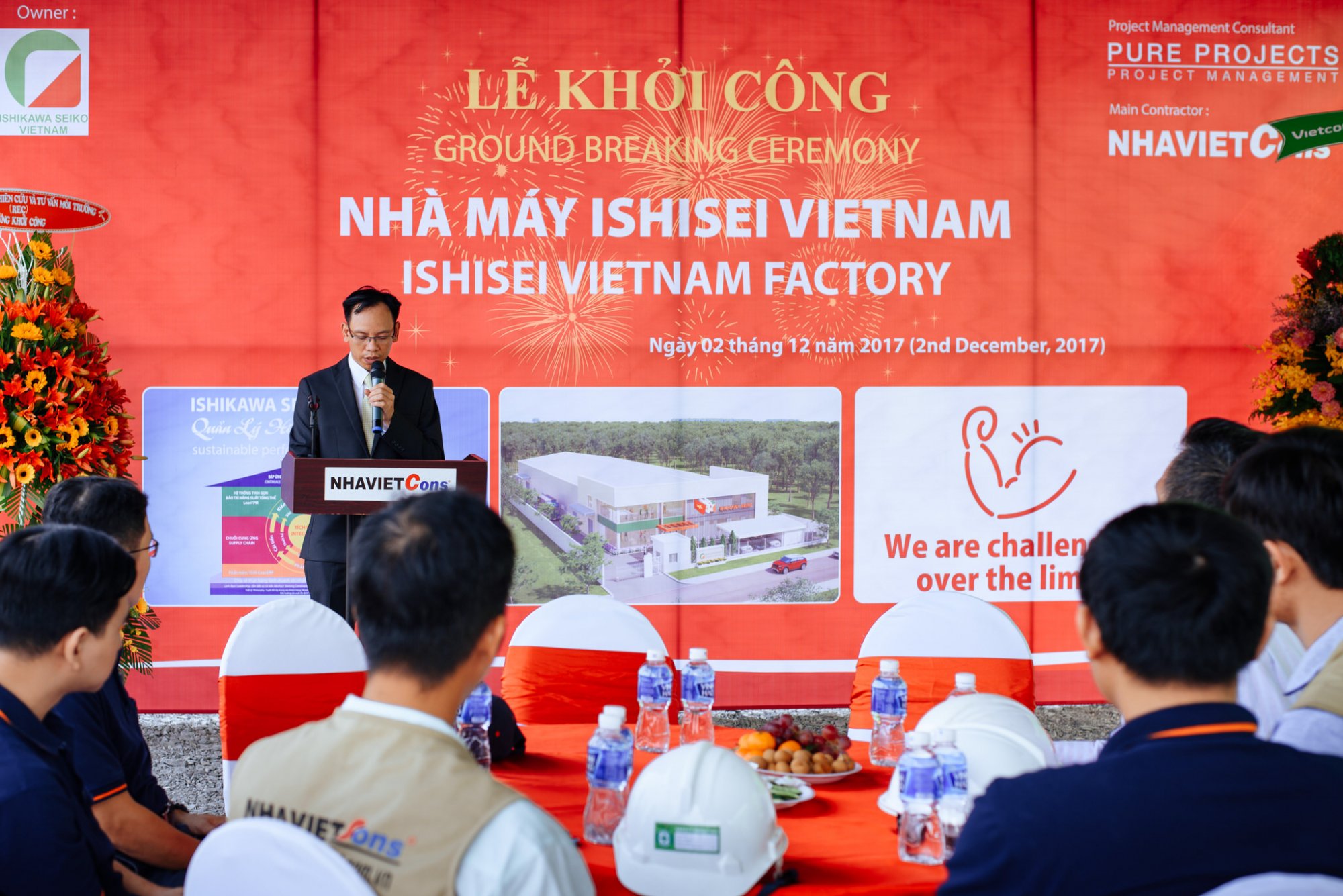 In the ceremony, Mr. Nguyen Huy Trung stated that the strong economic growth in recent years and the changes in government policies helped Vietnam economy in general and the industrial and mechanics sector in particular with positive changes. The project of Ishisei Vietnam at Hiep Phuoc IP is an important step in the development of Ishikawa Seiko Vietnam.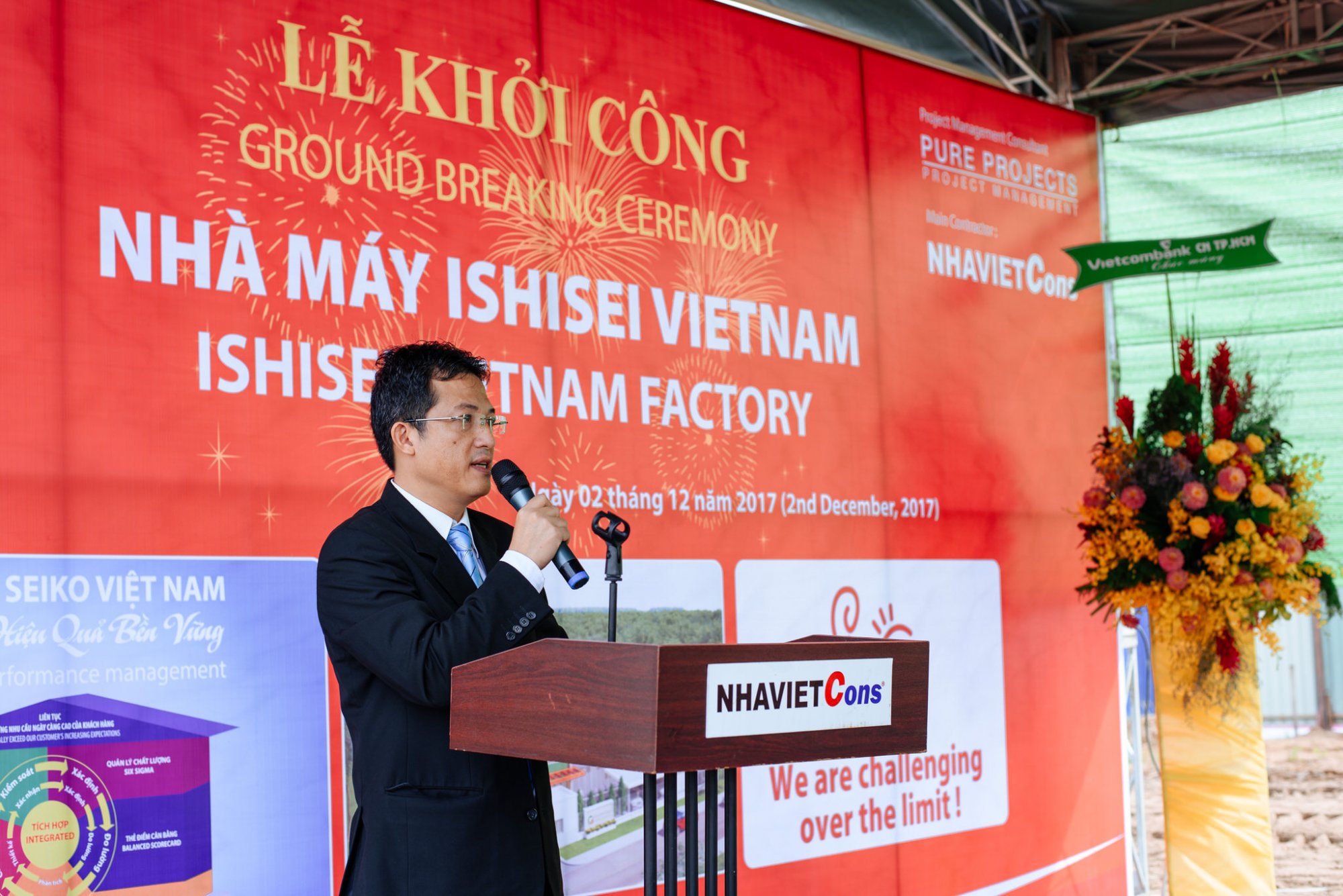 The Ground breaking Ceremony of the project of ISHIKAWA SEIKO VIETNAM took place successfully. The representative of Hiep Phuoc Industrial Park - Mr. Giang Ngoc Phuong - Vice President JSC Hiep Phuoc sent greetings and commitment to continue to support Nha Viet Construction for the early completion of the project, into operation and for the sustainable development of the project at Hiep Phuoc Industrial Park.